VR Awards 2022: "Moss 2" ist VR-Spiel des Jahres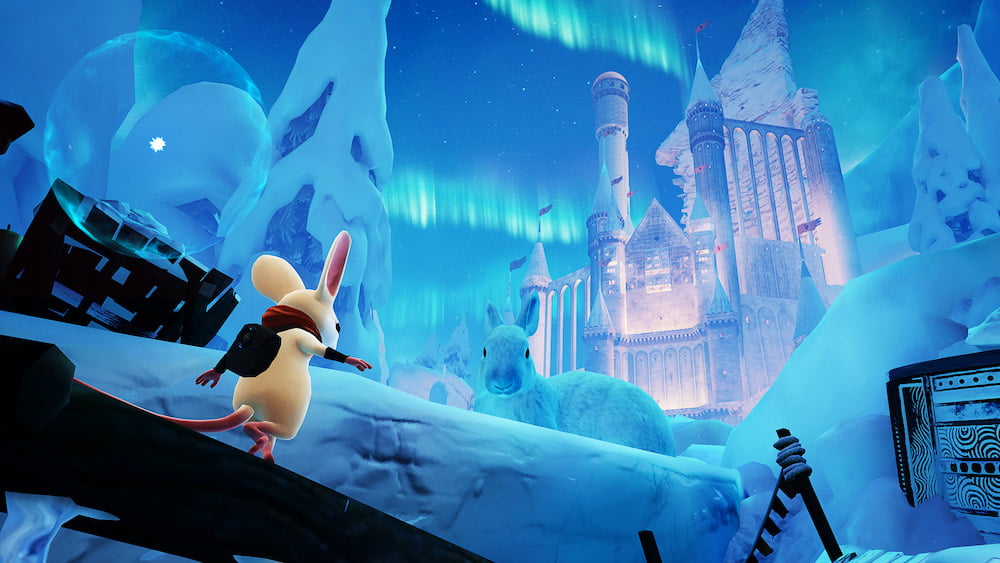 UPDATE
2. Dezember 2022:
Die Gewinner:innen wurden gekürt und sind im Artikel gefettet.
Als bestes VR-Spiel 2022 setzte sich Moss: Book II (Test) durch.
Auch dieses Jahr werden wieder die VR Awards verliehen. Welche Hardware, Spiele, Filme und Erfahrungen sind nominiert?
Das von der AIXR (The Academy of International Extended Reality) organisierte Event findet dieses Jahr zum sechsten Mal in Folge statt.
Die Jury, die aus mehr als 70 Industrievertreter:innen besteht, hat am 3. August die Finalisten des Jahres 2022 bekanntgegeben.
Die Preisverleihung findet am 1. Dezember 2022 in Rotterdam statt.
MIXED.de ohne Werbebanner
Zugriff auf mehr als 9.000 Artikel
Kündigung jederzeit online möglich
Nachfolgend die Nominierten in den zwölf Preiskategorien. Listen früherer Gewinner findet ihr am Ende des Artikels.
Beste VR-Hardware
Contact CI – Maestro DK3
Emerge Inc – Emerge Wave-1
Pico – Pico Neo 3 Link
Varjo – Varjo Aero
Vive – VIVE Flow
Vrgineers Inc. – XTAL™ 3 Mixed Reality
Bestes VR-Spiel
AEXLAB – VAIL VR
AMATA K.K. – The Tale of Onogoro
Fast Travel Games AB – Cities: VR
ILMxLAB – Star Wars: Tales from the Galaxy's Edge – Last Call
Meta / Capcom / Armature Studios – Resident Evil 4
Mighty Eyes – Wanderer
Miru Studio – Finger Gun
Neat Corp – Garden of the Sea
POLYARC GAMES – Moss: Book II
Ramen VR – Zenith: The Last City
Ready at Dawn / Meta – Lone Echo II
Schell Games – I Expect You To Die 2: The Spy And The Liar
Vertigo Games – After the Fall
Bester VR-Film
Alchemy Immersive – David Attenborough's First Life
Alchemy Immersive – Kingdom of Plants with David Attenborough
Atlas V, Arte France, BBC, Serendipity, PTS Taiwan, Wild Fang Films, GIIOI – Missing Pictures
Baobab Studios – Namoo
CityLights – Experience Yosemite
Fluffy Cactus – Diagnosia
Infinite Frame Media – The Choice
New Canvus – Lustration
TARGO – Surviving 9/11
Virtual and Physical Media Integration Association of Taiwan – Samsara
Beste VR-Erfahrung
Fast Travel Games AB – Virtuoso
Film Addict – Le Bal de Paris de Blanca Li
Hakawati Studio – Wamdah | Journey to the future
Interactive Media Foundation – MYRIAD. Where we connect. | VR Experience
Meta Platforms Inc. – Post Malone's Twelve Carat Toothache: A VR Experience
Meta, ARTE France, BFI; Archer's Mark, Atlas V – On The Morning You Wake (To the End of the World)
Schell Games – Lost Recipes
SENSORIUM – Out-of-This-World Experiences
The MetaMovie: Alien Rescue
YORD – LifeboardVR | YORD
Beste VR-Arcade-Erfahrung
BackLight – Ascenders
Divr Labs – The Lost Lab
Emissive / Orange – Eternal Notre Dame
INFINITY Experiences – THE INFINITE
Museum of Future Experiences – Gnosis
Red Bull – Red Bull The Edge Matterhorn VR
Red Raion – The Ecosystem Exploration Craft & Observatory (EECO) Voyager
SPREE Interactive – Battery Powered VR Bumper Cars
Universal Studios Japan, Osaka – Monster Hunter World: Iceborne XR Walk
VIRTUAL ZONE NEXUS SL – Dead Mansion
VIRTUAL ZONE NEXUS SL – INVASION
XR Immersive Tech – UNCONTAINED Hyper-Immersive VR™
Bestes aufsteigendes VR-Unternehmen
Anotherway
Born Studios Limited
GeniusX Inc.
Shattered Lands
VR Future
Bestes innovatives VR-Unternehmen
Andromeda Entertainment
ARuVR Ltd
Emerge
FundamentalVR
Future House Studios
Immerse
Magos
nDreams
NXRT
Owlchemy Labs
Rezzil
Sensorium
The Edge VR
Beste VR-Gesundheitsapp
Born Studios Limited – The Forest of Resilience
Fresenius Medical Care – stay.safe MyTraining VR
FundamentalVR – Versius in VR: A FundamentalVR and CMR collaboration
Ghost Productions – Ghost VRSE II Surgical Simulation for Spineology's Optimesh MIS Spinal Implant
Osso – Osso VR: Virtual Reality Training for Surgical Teams
PrecisionOS Technology – Virtual Reality Training for Doctors Doing Orthopedic Surgery in Low-resource Countries
Rendever – RendeverFit™
SimX – Emergency Medicine Services (EMS) VR Simulation Training
VR Medical – VR Medical
Beste VR-Bildung und -Schulung
Avantis Systems – Avantis World
Digitalnauts – VBEE (Virtual Building Element Environment)
Fectar – Fectar MeetUp – work together in VR and AR – multi-user/multi-device
Flint Systems – Forklift VR training simulator
Immerse – Immerse
Ludus – LUDUS GLOBAL: TO INDUSTRY AND BEYOND
Make Real – Immersive Role Play
MEDIASQUAD GmbH – BRP-Rotax VR Safety Training
Nexefy Pty Ltd – The KiwiRail Infrastructure Programme
NextWave Safety Solutions, Inc. -Ladder Safety VR
Refense AG – Refense Advanced Tactical Training Simulator (ATTS)
Rezzil – Rezzil Index 2.0
Beste VR-Unternehmenslösung
Accenture – Orchestra 1 – Supply Chain Control Tower of the Future in the Metaverse
Accenture GmbH (together with E.ON SE) – The Republic – The Community for Sustainability
Contact CI – Contact CI Haptic Integration: Lightweight VR Training Simulators Enabling High-Fidelity, Physics-Based
Effects Within the Training Simulator
Dynepic – MOTAR (Member-Operations-Training-Analysis-Reports)
Immerse – Immerse Marketplace
Immersionn – Immersionn
Make Real Ltd – VR Induction Suite
SEAT S.A. (SEAT & CUPRA) – Immersive Design Check (IMDCH)
Spinview – Spinview's Vision OS for Global Media & Entertainment
Spinview – Spinview's Vision OS for Transport for London
WaveFunction, Lda – Metaverse Car Showroom
VR-Award für soziale Wirkung
Big Rock Creative and Microsoft – Microsoft Pride: Pride has no borders
Cooperative Innovations Ltd – Museum of Plastics 2121
DiVRse Technologies Ltd – LGBTQ+ VR Museum
Edstutia – Barnga: Social Impact in Virtual Reality
Found Object Media – The Future of Energy
Hope for Haiti – Inspiring Hope
Lucid Reality Labs – Seeing the Problem
Magika VRx – Hospice Savannah – SCAD – VR for Good: Transforming End-of-Life and Palliative Care with VR
Naima Karim – The Anticipation of Rain
Upstream – Nobody's Listening
Virti – VR to tackle discrimination and inequality in mental health care
Beste VR-Marketingkampagne
canVERSE – Arksen 85 Digital Twin
INVIDAR – Milwaukee HUB
MyDearest, Inc. – Project: Gathering
NEKONATA XR TECHNOLOGIES GMBH – XQ Avatar by NXRT
Philips – The Wonder of You
Frühere Preisverleihungen
Hinweis: Links auf Online-Shops in Artikeln können sogenannte Affiliate-Links sein. Wenn ihr über diesen Link einkauft, erhält MIXED.de vom Anbieter eine Provision. Für euch verändert sich der Preis nicht.