VR Awards 2020: Das sind die Gewinner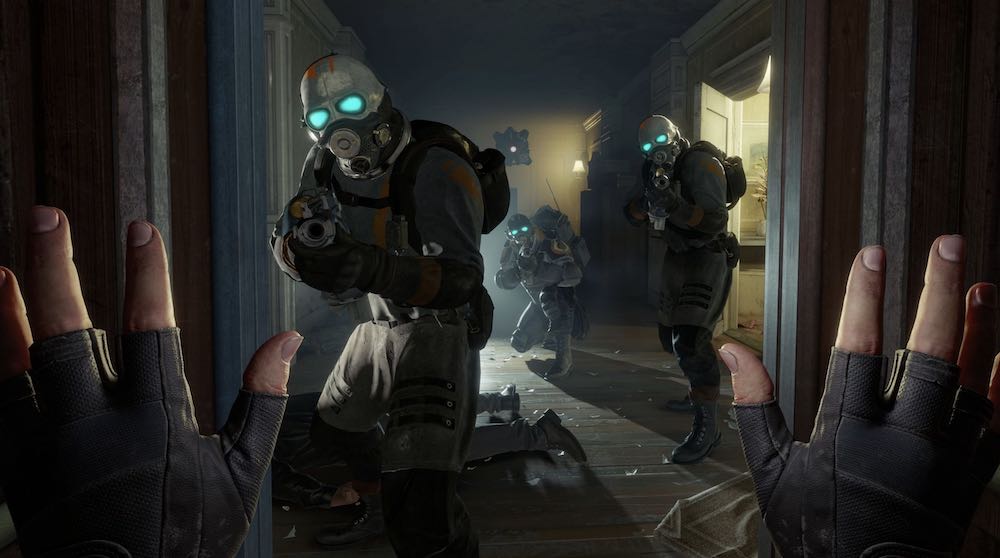 Update: 13.11.2020
Gestern wurden die VR Awards verliehen. Über eine doppelte Auszeichnung durfte sich Valve freuen: Das Unternehmen gewann den Preis für die beste VR-Hardware (Valve Index) und das beste VR-Spiel (Half-Life: Alyx).
Alle übrigen Gewinner sind im folgenden Artikel fett markiert.
Ursprünglicher Artikel vom 10. Juli 2020:
___STEADY_PAYWALL___
Die vierte Ausgabe der VR Awards in Folge findet digital statt und ist gratis.
Die Preisverleihung findet am 12. November auf der Social-VR-Plattform VRChat statt, die sowohl für alle gängigen VR-Brillen (Vergleich) als auch für den Monitor erhältlich ist.
Dieses Jahr werden Preise in 13 Kategorien verliehen, darunter der neuen Kategorie "Beste VR-Influencer".
Die Organisatoren verkaufen kostenpflichtige Tickets für Netzwerker: Für 35 britische Pfund erhält man Zugriff auf virtuelle Begegnungen mit Industrievertretern vor und während der Veranstaltung, für 199 britische Pfund gibt es ein VIP-Ticket, das kuratierte Kennenlernrunden bietet.
Die Listen früherer Gewinner findet ihr am Ende des Artikels.
Beste VR-Hardware
Pimax Artisan
Valve Index
Oculus Rift S
Varjo VR-2
VRgineers, Inc. – XTAL 8K
Bestes VR-Spiel
Sanzaru Games – Asgard's Wrath
Stress Level Zero – Boneworks
Cortopia Studios – Down the Rabbit Hole
Valve – Half-Life: Alyx
nDreams – Phantom: Covert Ops
Cloudhead Games – Pistol Whip
Insomniac Games – Stormland
Kluge Interactive – Synth Riders
Fast Travel Games – The Curious Tale of the Stolen Pets
Fireproof Studios Ltd – The Room VR: A Dark Matter
Skydance Interactive – The Walking Dead: Saints & Sinners
Schell Games – Until You Fall
Bester VR-Film des Jahres
Felix and Paul Studios – Algeria: A Spark of Light
Fabio Rychter & Amir Admoni – Gravity VR
Samantha Quick – Lutaw
Walt Disney Animation Studios – Myth: A Frozen Tale
Enrique Agudo – The Pantheon of Queer Mythology
Beste VR-Erfahrung des Jahres
Accenture – All Kinds of Limbo
Dimension – Britannia VR: Out of Your Mind
Magnopus – Elixir
Charlotte Mikkelborg – Fly
Funktronic Labs – Fujii
Force Field Entertainment – National Geographic Explore VR
Atlas V – The Dawn of Art
Tender Claws – The Under Presents
Zenart VR – Zen Universe
Beste VR-Arcade des Jahres
ILMxLAB & The VOID – Avengers: Damage Control
SOMNIACs – Birdly – Paradise Lost
Ballast Technologies Inc. – DIVR+
Vertigo Arcades – Ghost Patrol VR
HOLOGATE – HOLOGATE 'BLITZ'
The VOID – Jumanji: Reverse the Curse
The Dream Corporation – OTHERWORLD
Frontgrid – ParadropVR City Flyer
Wevr – TheBlu: Deep Rescue
REWIND & holoride – Universal Monsters Presents: Bride of Frankenstein holoride
Beste VR-Startup
Cybershoes GmbH
Emperia
Evernever Games
Klip VR Immersive Technologies Pvt. Ltd.
VR Inn
Innovativstes VR-Unternehmen
Ballast Technologies
Cleanbox Technology
EVA Esports Virtual Arenas
Kagenova
Orka
Qualcomm
Skydance Interactive
VISBIT Inc
Beste VR-Unternehmenslösung
Neutral Digital – British Airways First Class VR
MEDIASQUAD GmbH – BRP-Rotax VR Job Assessment
Enduvo – Enduvo 1.0
Accenture – Immersive Collaboration Platform (ICP)
Vrgineers, Inc. – US Airforce Flight Simulator
Immerse – Virtual Enterprise Platform
Beste VR-Gesundheitsapp
Make Real & NHS – Blood Identification VR
FundamentalVR – Fundamental Surgery HomeVR modality
Sector 5 Digital – Galderma Interactive Anatomy (GIA) VR
Health Scholars – Health Scholars ACLS VR Simulation Trainings
Oxford Medical Simulation – OMS: Interprofessional
PeriopSim – PeriopSim
Oxford VR – Social Engagement
Exonicus – Trauma Simulator
Beste Bildungs- und Schulungsapp
VirtualSpeech – Collaborative Soft Skills Training in VR
Orka – DHL SLAM
GE Hitachi Nuclear Energy International LTD – Large-Scale Multi-user Fuel Movement VR Training Simulator
ITI – ITI VR Construction Hazard ID
TANTRUM Lab – McDonald's Hospitality Training
MEL Science – MEL Chemistry VR
Accenture – Police Stop and Search VR Training
Make Real & Lloyds Banking Group – Relationship Management
TAFE NSW – VR in Vocational Education & Training: Evaluating Effectiveness & Efficacy
Bestes VR-Marketing
Khora – 360° VR Space Safari
Glassworks Barcelona – Audi e-tron Room: The Future Paradox
Imagination – Land Rover Defender VR Experience
ICEF – LONDONIST Student Accommodation Agency
EAB – This is USAFA
HIKKY CO., LTD. – Virtual Market 4
MALVI – VR Accommodation Experience
VR Award für soziale Wirkung
AARP Innovation Labs – Alcove
Entropia XR – GALERIKU – A VR MUSEUM LIKE NO OTHER
RT – Lessons of Auschwitz: VR tribute by school students
East City Films & Chartered Society of Physiotherapy – Some Inattention On The Left
Bester VR-Influencer (Neue Kategorie)
Cas and Chary VR
Eric for President
Kent Bye
Nathie
ThrillSeeker
Virtual Reality Oasis
Quelle: VR Awards, Titelbild: Valve
MIXED.de ohne Werbebanner
Zugriff auf mehr als 9.000 Artikel
Kündigung jederzeit online möglich
Weiterlesen über VR Awards:
Hinweis: Links auf Online-Shops in Artikeln können sogenannte Affiliate-Links sein. Wenn ihr über diesen Link einkauft, erhält MIXED.de vom Anbieter eine Provision. Für euch verändert sich der Preis nicht.